News
21-12-2008
It's finally here: Beta 5!
Download
11-12-2008
Or not... Dammit...
1-12-2008
I am so sorry for the delays, depression is not good for creativity... The next release can be expected this week!
10-8-2008
Temporarily moved server where the internet is a bit slower due to personal problems, so the page may load slower than it used to.
R-Player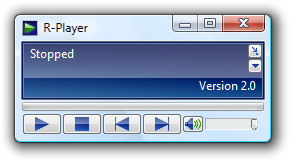 R-Player is a free no-bullshit media player for the Windows operating system, still in development.
R-Player gives the best of both worlds by giving lots of functionality, like a media library and support for any file type (if you have the required decoders installed), while keeping the speed and the low memory usage the smaller players have. The entire player is smaller than 1 MB and installing takes less than a second!
Global hotkeys, the low cpu and memory usage makes R-Player perfect for playing video games without performance loss, and is also suitable for lower-end computers.
Features R-Player will NEVER have are visualisations, audio or video effects, an equalizer, skins and other stuff that make things slower.
Also, R-Player will stay free and will never become adware.
See the Features page to learn about the basic features.
Download
Help and support
This website also contains the online help and a FAQ.
If you want to know something about R-Player or if you want to learn about the more advanced features, visit the Help.
If you have a question about R-Player, visit the FAQ. If that didn't answer your question, you can Contact me.
How it started
R-Player started out as a really simple media player. (version 1)
It could do nothing more than just play mp3 and wma files, and was really limited in playing videos. It could arrange, save and open playlists, set the play mode, and already had a tray icon.
Click here for a screenshot.
Version 1 actually really sucked and I never used it myself. Some people asked me to improve this version, and I began to hate WMP more and more, so I created this version.
R-Player 2 already has 11431 lines of code, not counting the default code from the compiler, and I started in January 2008.