Features
Simple and compact interface


No bulky windows, the compact interface makes every pixel count.
Media library


Easily access your music, videos and playlists with the built in media library, and search in the library to access your media even faster.
Playlists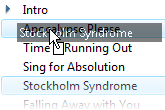 Create and organize playlists, and save them as .m3u playlists.
Support for reading almost any format playlist.
Tray controls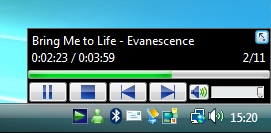 Complete control to R-Player from the tray menu.
Metadata


Support for reading metadata in MP3 and WMA files.
Customizable interface

Hide unnecessary buttons if you're only going to control R-Player with the keyboard.
Internet radio
Support for Windows Media internet radio streams.
Global hotkeys
Enable global hotkeys to control R-Player while other programs are active, for example, full-screen games.
DirectShow
Support for any file type, if you have the required codecs installed.
Install/standalone
You can choose to install R-Player or to run it standalone.
When installing R-Player, you can create shortcuts and associate file types so you can easily open files with R-Player.
When running R-Player standalone, you can keep it on a portable device like a USB stick, so you can keep your music and settings wherever you go.
Auto update
R-Player automatically checks for updates, and upgrading only takes less than a second.